Painting kokeshi - linocut on paper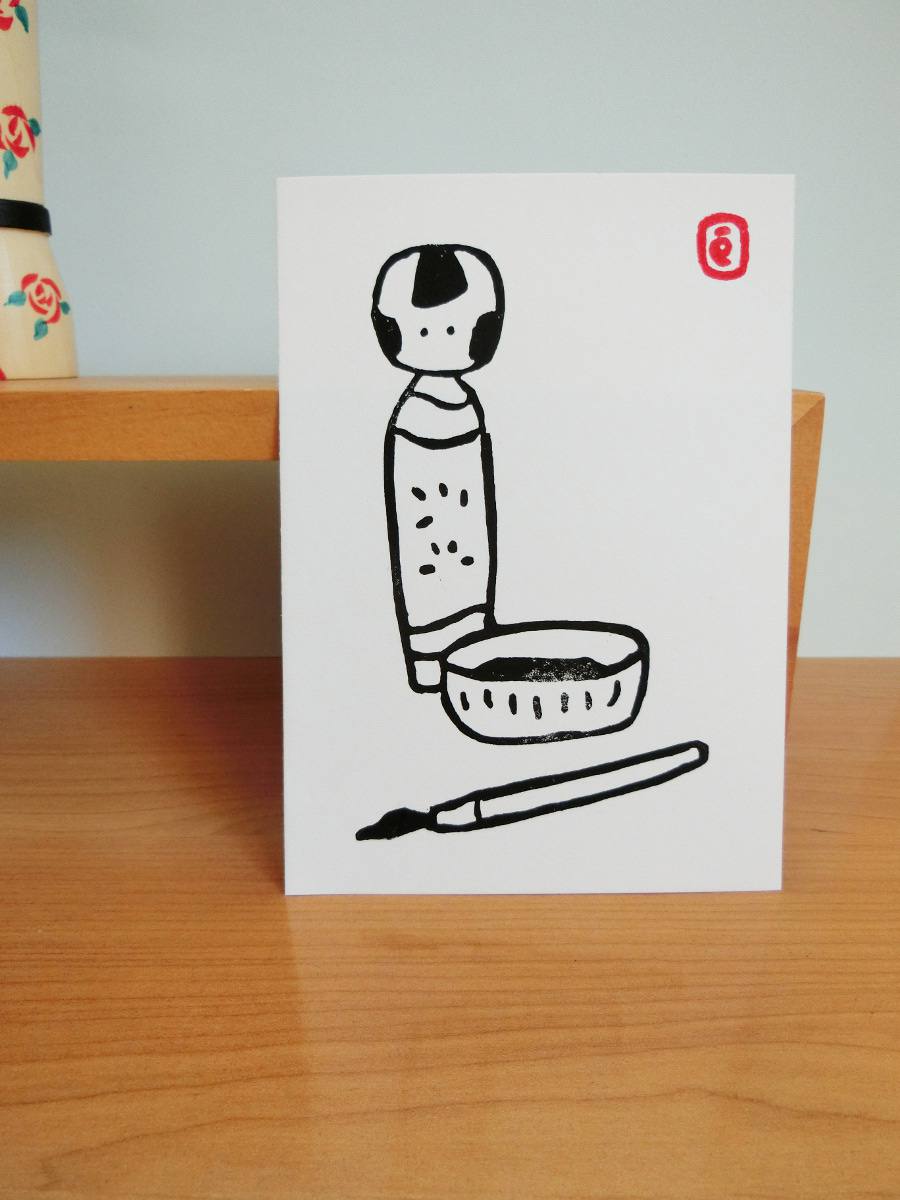 Painting kokeshi - linocut on paper
Some ink, a good brush and a wooden piece… I met Edith Silva in an event where she exhibited a notebook full of illustrations and haikus, written during her travels in Japan. I loved the minimalist esthaetic and the deep link with Japanese simplicity… and asked her for something about kokeshi dolls. For this postcard-size art piece, she used linoprint, a process where you first make your own stamp, and handprint each card one by one with a special ink.
Specifics:
- postcard size, in a plastic blister
- handprinted
- signed by the artist, Edith Silva
- size : 10,5 x 14,7 cm (4 x 5,5 in)
Click here to browse the stationery section.
Do you need more info before ordering? Read how to order on Folkeshi, and review my policies!
Un peu d'encre, un bon pinceau et une pièce de bois...J'ai rencontré Edith Silva sur un salon où elle exposait un carnet de voyage rempli de haïku et d'illustrations, réalisé pendant son séjour au Japon. J'ai tout de suite aimé son esthétique minimaliste et le lien profond avec la simplicité japonais... et lui ai demandé de réaliser quelque chose en rapport avec les poupées kokeshi. Pour cette illustration au format carte postale, elle a utilisé la linogravure, un procédé où on sculpte d'abord un tampon, puis on imprime, un par un, les exemplaires avec une encre spéciale.
Détails :
- format carte postale, sous blister plastique
- imprimé à la main
- signé par l'artiste, Edith Silva
- dimensions : 10,5 x 14,7 cm
Cliquez ici pour retourner à la section Papeterie !
Besoin de plus d'infos ? Lisez comment commander sur folkeshi, et parcourez mes CGV !
Browse the categories: