Poupée kokeshi de Matsushima, avec écorce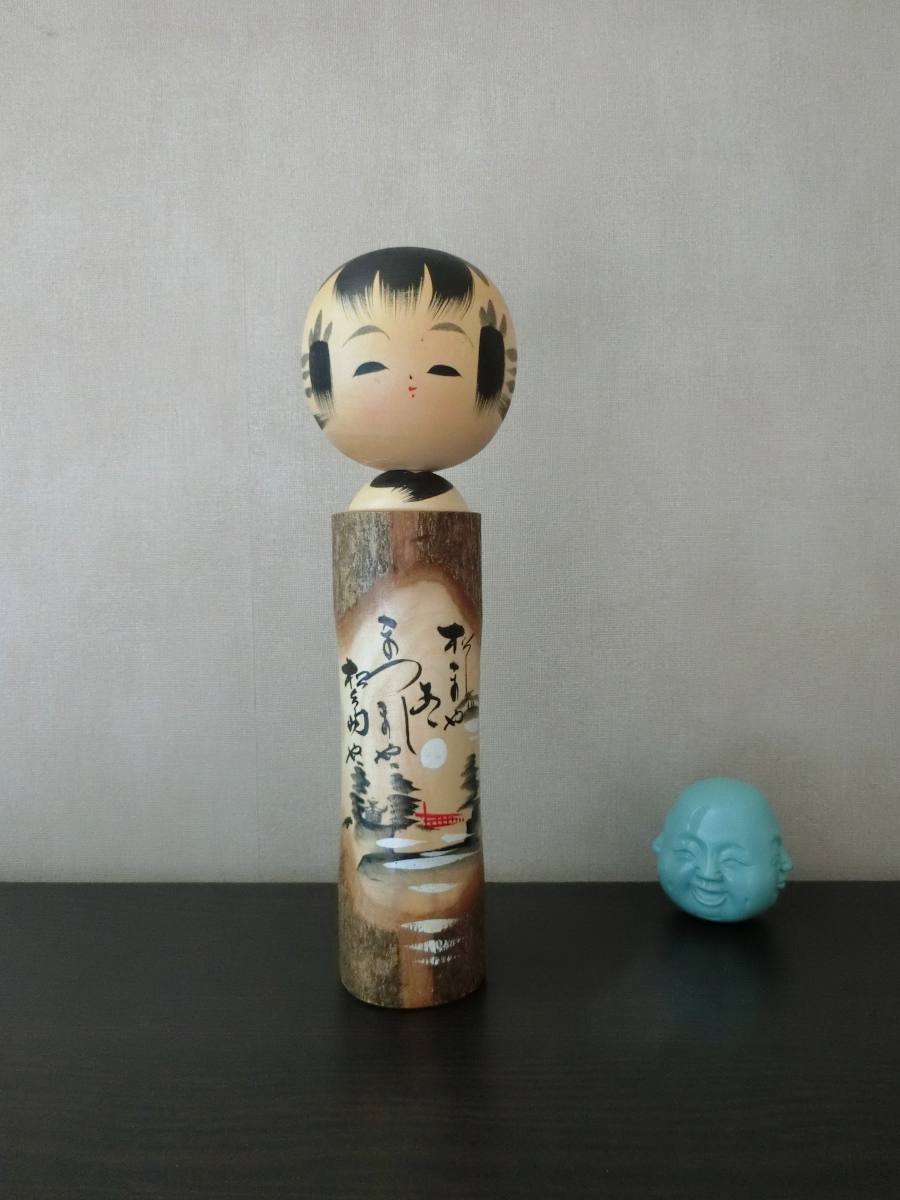 Poupée kokeshi de Matsushima, avec écorce
Kokeshi from Matsushima, with bark
Bark kokeshi are always a technical challenge for the craftsmen: the wood must be turned at a particular time to ensure the bark stays on the doll… Here, it serves to reinforce the rural feel of this doll. The kokeshi features the famous Matsushima Bay - one of the 3 most picturesque landscape of Japan. Bashô words ("Ah, Matsushima!") are calligraphied.

- Signed by the maker
- 30,5 cm (12 in) tall, 6 cm (2,4 in) wide at the bottom
- Vintage, very good condition
Click here for more kokeshi fresh from the workshop!
Do you need more info before ordering? Read how to order on folkeshi, and review my policies!
Les poupées kokeshi conservant leur écorce sont un vrai défi pour les artisans ! Il faut tourner le bois délicatement, et à une saison précise, pour que l'écorce ne se sépare pas spontanément du bois. Ici, l'écorce apparente sert à appuyer l'aspect rural de cette kokeshi, qui représente la baie de Matsushima. Ce lieu célèbre du Tohoku est classé parmi les trois plus beaux panoramas du Japon ! Le tout aussi célèbre haïku de Bashô (Ah, Matsushima…!) est calligraphié au dessus du paysage.
- Signé par l'artisan
- 30,5 cm (12 in) de haut, 6 cm (2,4 in) de diamètre à la base
- Ancien, très bonne condition
Cliquez ici pour plus de poupées tout juste sorties des ateliers !
Besoin de plus d'infos ? Lisez comment commander sur folkeshi, et parcourez mes CGV !
Browse the categories: