Striped kokeshi dolls couple by Hayasaka Masahiro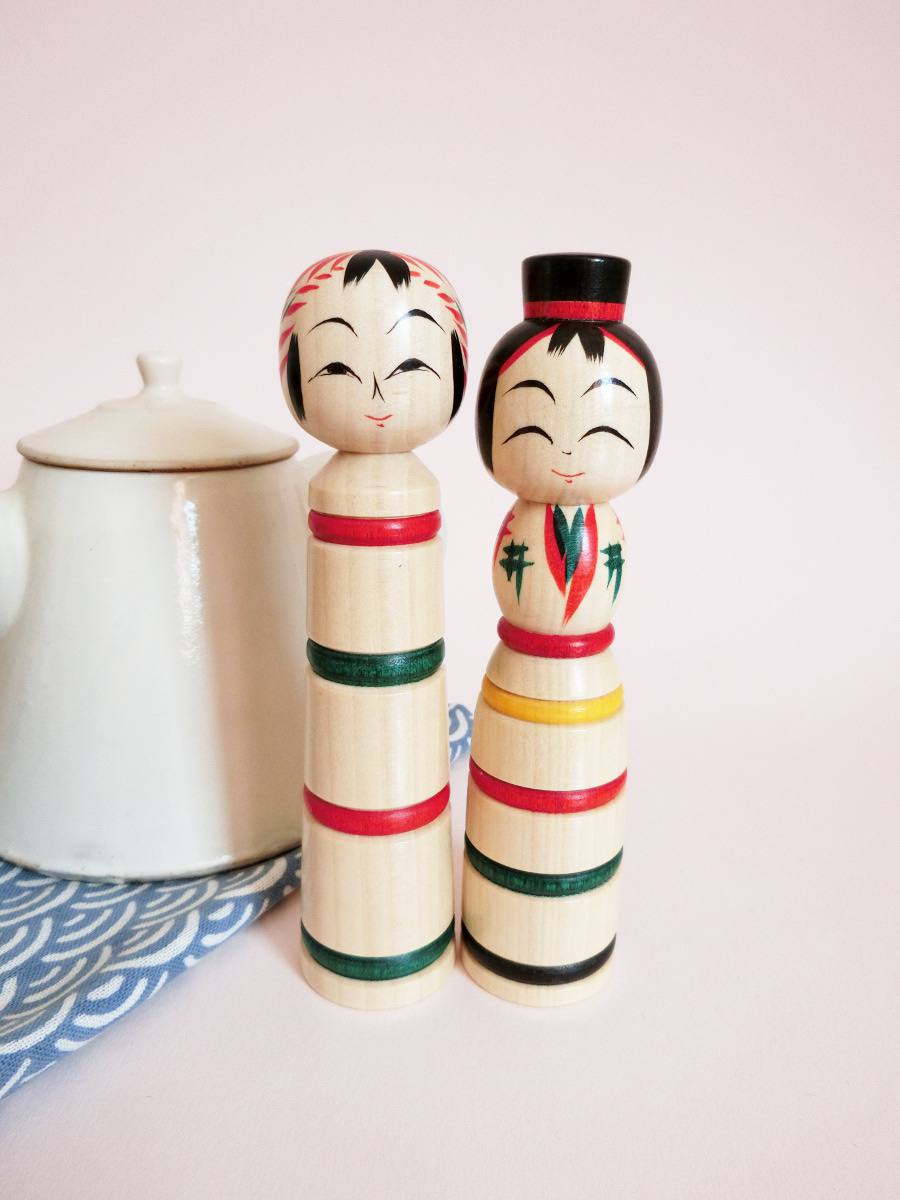 Striped kokeshi dolls couple by Hayasaka Masahiro
Last one in stock!
These two kokeshi dolls wear proudly their stripes: slightly raised, and highlighted by color. The girl wears a geometrical bun; the boy has "tegara", the Togatta pattern, on the head.
They will make an original gift for a couple, or a wonderful piece for a collector!
- Handcrafted by Hayasaka Masahiro, a Togatta traditional artisan
- 14 cm (5,5 in) tall and 3,2 cm (1,3 in) wide at the bottom
- Dogwood and dyes, waxed.
- Comes with a collectible identity card
Click here for more kokeshi fresh from the workshop!
Do you need more info before ordering? Read how to order on folkeshi, and review my policies!
sold out
Dernier exemplaire !
Ces deux poupées kokeshi portent fièrement leurs rayures. celles-ci sont en volume, et soulignée par des bandes de couleurs. La fille porte un chignon géométrique, et la tête du garçon est peinte du motif "tegara", un motif rouge, radial, typique du style Togatta.
Ce couple de kokeshi fera un cadeau original pour de jeunes mariés, ou une pièce spéciale pour un collectionneur !
- Fait à la main par Hayasaka Masahiro, artisan traditionnel (style Togatta)
- 15 cm (6,1 in) de haut, 3,3 cm (1,3 in) de diamètre à la base
- En bois de cornouillier et encres, ciré.
- Vient avec une carte d'identité à collectionner
Cliquez ici pour plus de poupées tout juste sorties des ateliers !
Besoin de plus d'infos ? Lisez comment commander sur folkeshi, et parcourez mes CGV !
Browse the categories